About us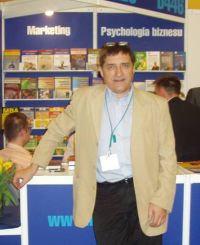 Wamex is a privately-owned company. Its owner, Marian-Jozef Waszkiewicz, is an émigré Pole who has lived in Sweden since 1973. He has also lived two years altogether in the USA, six months in Australia, New Zealand and India and travelled twice around the globe. After university studies (modern languages) in Poland and Sweden, he worked for few years as a secondary school teacher in Sweden but switched to translating and started a translating company in 1990. Being only one of five Swedish–Polish translators certified by the Swedish Chamber of Commerce, he soon turned his activities into a full-time business, co-operating with a number of translators in Sweden, the UK and Poland.
After 1993, and concurrently with the changes that took place in Eastern Europe, Wamex started to translate and publish books for the Polish market. The first book, Wayne Dyer's Your Erroneous Zones" (1995), was a great success and is still selling well. Other books followed. The first eight books were translated by M. J. Waszkiewicz. Nowadays the company co-operates with a number of very good translators and editors, but all translations are still personally checked by the owner before publishing. Our translation operations in Sweden provide us with a solid economic base from which to expand our activities in book publishing.
Our mission
Our mission is to translate and publish books of high value; especially books that can help people make their everyday life easier and change our earth into a better place. Our main fields are popular psychology, self-help books and books for business people but we also aim at works of literature.
Our approach
We look for books that match our mission, buy the rights, translate them and produce ready-to-print PDF files. Our aim is not only to publish the books of the authors chosen but to engage actively in promoting them in Poland via newspaper articles, local seminars and Internet direct advertising. In other words, since we do not have so many authors, we have the resources to put some extra work into promoting them and their ideas to the Polish readership.
Instead of starting a competing publishing house in Poland, we decided to cooperate with publishing houses already established there, which had a similar profile to ourselves. This approach turned out to be successful because, whereas the translating and editing process is a bottleneck for most publishers, they have no problems in printing another book that has already been professionally prepared for publication. Although our projects are based on a joint-venture principle, we stand for all the initial costs and are solely responsible towards the copyright owner of the original work. Our books usually comprise separate book series in the partner company.
Other promotional activities
Some of the authors are popular speakers in their home countries. As an additional support to promoting their image and increasing the sales, we organize or help in organizing different seminars in Poland. We have initiated and assisted in organizing two seminars by Roger Dawson and have participated in seminars by Brian Tracy. For more information, see the home pages of the respective authors. We are working on bringing other authors to Poland in the near future. Please see seminars and coming events for further details.
Our location and future plans
Although the main office is located in Sweden (Gothenburg), it now takes only an hour and a half by plane to Warsaw. For this reason our co-operation with our Polish partners is very close. In 2009, we set up an affiliated company in Poland (Wamex Poland), which will successfully take over the contacts and work independently in Poland while Wamex Sweden will concentrate on the Swedish book market. The purchase of an already existing publishing house in Poland or a merger are considered as future options.